Mountain Hiking Holidays specializes in guided, small group hiking trips in the mountains. On a Mountain Hiking Holiday you…
| | |
| --- | --- |
| | Spend your days hiking in the mountains on hiking trips designed by hikers for hikers. When developing our trips we emphasize the quality of the hiking experience over other factors such as the selection of specific overnight accommodations. This allows us to create itineraries that immerse you in the best hiking experiences the mountains have to offer. |
| | Exercise! Stretch your legs, breathe fresh air, and fall under the spell of the mountains. There's nothing quite like the workout you'll get on a mountain trail! Enjoy the outdoors, rejuvenate your body and soul, and return home feeling fit and refreshed! |

In our extensive search for a company to lead a walking/hiking trip, our main criterion was to select the one that was least like a big organized tour and most like independent travel. We were definitely successful in our selection.
–ROYCE, BARBARA AND BRANDON ALSOP

Get to the heart of the mountains. Your Mountain Hiking Holidays adventure gets you right to the heart of the best mountain hiking areas. We seek out established trails in national parks, nature reserves and protected areas and strive to avoid routes involving roads. Hikes begin right at the front door of your hotel or a short shuttle ride away. Bring your comfortable hiking boots, a daypack for personal provisions and trekking poles, if you use them. No other specialized equipment or climbing skills are required.

See also Equipment and Preparedness

As we look back on our two trips with you, we really appreciate the thought and the work you have put into designing the trips, scouting and selecting the hikes, choosing the hotels and restaurants and (with great good humor) shepherding your guests as the adventure unfolds—and giving them as much rope as they choose to run.
–DOUG AND DENISE WHITE

Enjoy comfortable overnight accommodations in great hiking locations. We select hotels and inns that are well-positioned to support hiking activities and are in addition comfortable, clean, and safe (offering private bathroom facilities and nourishing, multi-course meals). The hotels and inns we use range from four-star hotels with pools and saunas to simple inns depending on the specific destination. Unpack and settle in! On a Mountain Hiking Hoidays trip, multiple-night stays are typical.

Dine! Meals feature local cuisine varying from gourmet preparations to rustic mountain dishes. In any case, your overnight accommodations are selected because they provide comfort and convenience in a great location for hiking.

Choose your hike. Select from two guided hiking options per day—a moderate option accessible to most physically fit individuals, and a more difficult option designed for hikers who seek a full, physically challenging day on the trail. Select your hike based on your desire for route, distance, time and level of physical exertion. The hiking choices allow you to tailor your trail experience day-by-day. At least two guides accompany each of our trips to make the options possible.

Moderate options typically involve seventeen hundred to two thousand feet of vertical elevation gain involving four to five hours on the trail. The more difficult options can involve three to four thousand feet of vertical elevation gain and as many as seven to ten hours on the trail.

See also Fitness Requirements

Having daily hiking options made it easy for us to choose a hike that was consistent with our abilities. We were encouraged to maintain our own personal style of hiking… We realize that, had we been left to attempt this trip on our own, we might have been able to do 10% of what we accomplished with relaxing ease while in your care.
–JIM AND PEGGY HILTON

| | |
| --- | --- |
| | Travel with a small group of fellow hikers bound by a common love of the trail. More than two-thirds of our travelers are either alumni or those who join us as the result of a personal recommendation. Even though Mountain Hiking Holidays trips are group travel experiences, we'll do our best to cater to the individual hiking styles and pacing preferences of each trip participant within the natural limitations imposed by group travel. On Mountain Hiking Holidays trips, trip leaders work together with trip participants to create successful hiking experiences for all. |

You certainly provide the best of times to your clients…You made the whole trip an 'individualized' experience for me.
–SHIRLEY BUXTON

| | |
| --- | --- |
| | Gain insights into the culture and natural history of the regions in which you're traveling. The physical rewards of a hiking trip are just part of your experience. We'll fuel your mind by introducing you to the stories behind the landscapes, national parks, reserves, and World Heritage Sites that you'll visit. |

Having been on several of your trips, I have come to expect thorough organization, excellent leadership, and fun and interesting traveling companions. You always deliver!
–LAURA REES

| | |
| --- | --- |
| | Support local communities. When possible, your lodging, meals, and transportation are provided by small locally-owned and operated businesses. In this way you provide direct support to the communities that you enjoy during your journey. Your trip is designed to respect both the natural and cultural environment of the places you visit. |

The skill, warmth and caring that Amy and John put into the trip gives great pleasure. Their courtesy in introducing the innkeepers attests to their positive relationship with staff as well as guests.
–SALLY SAMPLE

| | |
| --- | --- |
| | 100% Mountain Hiking Holidays! Unlike some tour companies, we are not a "storefront" offering trips developed and led by other companies on which we put our brand. The owners of Mountain Hiking Holidays and our carefully selected team of guides personally develop and lead all the trips you'll find on this website. We've hiked all the trails and scouted out the gems. You'll benefit from that knowledge and expertise. And as you're deciding which trip is best for you, call us! Your trip leader will be happy to personally answer any questions you might have. |

This trip exceeded my expectations because of the personalized "hands on" attitude of the guides and because of the various options available for hiking each day. These two features make your hiking excursions an exceptional experience.
–LOUISE SILL

A truly unforgettable experience! Your attention to detail and careful consideration of the hikers' needs and desires was very impressive, not to mention the enthusiasm generated by leaders who have a real affinity for the mountains.
–VALERIE REED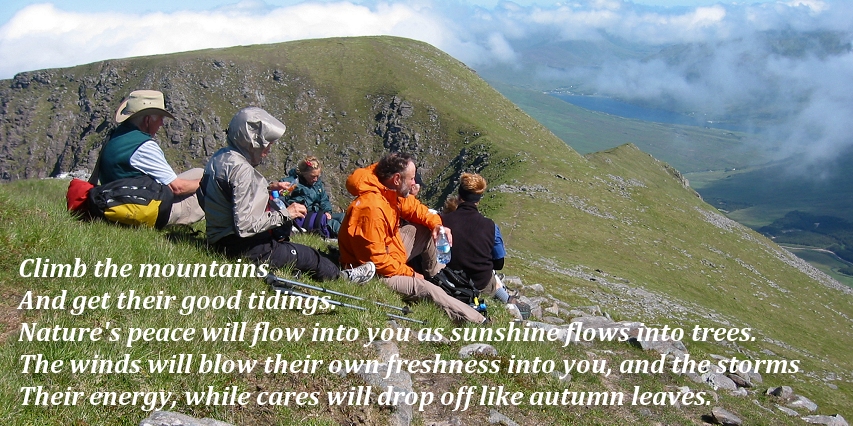 On top of Mweelrea, County Mayo, western Ireland.

It was great having a choice of hikes each day. The group exhibited a variety of hiking abilities, and I could choose a hike I could manage.
–PAT BUNVILLE

Each walking venue was different, the scenery exceptional and the overall experience beyond our wildest dreams.
–JERRY AND VI HERKES

You more than satisfied my 'mature woman' needs—your attention to details, consistent good humor, wealth of local and historical knowledge left me free to wallow in gorgeous scenery. And I liked the 'spacing' of the schedule—always time for individual pursuits after hiking.
–SALLY SHORR

Photos on this page are by John Osaki (© All Rights Reserved) except as otherwise credited.